KAL CNG Hydraulic Booster compressor is uniquely designed and has been developed with the latest technology which can operate with a wide range of suction pressure without any regulator (Generally, it lies between 30-230 Bar). When the compressor is used as a booster, the system always supplies compressed gas at the correct pressure, assuring the fastest refuelling by maintaining maximum pressure throughout the fuelling cycle.
Our Booster compressor is uniquely designed without any cooling water and fully tropicalized to suit Indian conditions for trailer unloading at daughter station applications. The compact design allows for installation in locations with limited space. In addition to the unique air-cooled design, minimum number of rotating equipment, and coolers, ensures zero maintenance and better reliability.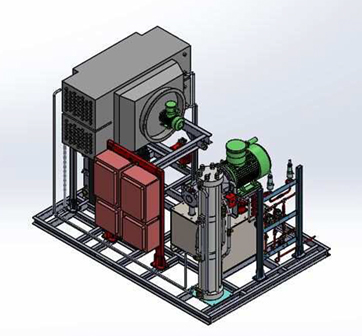 Hydraulic Operation Description
The Booster is driven hydraulically and the hydraulic pump and controls are chosen from internationally renowned vendors. The hydraulic oil is stored in a tank and is drawn by a variable piston pump powered by an electric motor and alternatively sent, by means of a main distributor to the oil chambers of the intensifying unit. The hydraulic circuit includes all instrumentation for operational safety.
KAL has long standing and excellent relationships with approved OEMs of various critical equipment in oil & gas sector worldwide. This relationship is in the form of technology partnership, strategic associations and long-time business partnerships. The strength of procurement speaks about global standards, consistent quality and on-time delivery when it comes to completing projects within the schedule. Timely procurement at optimal cost offers techno commercially competitive solutions to the customers.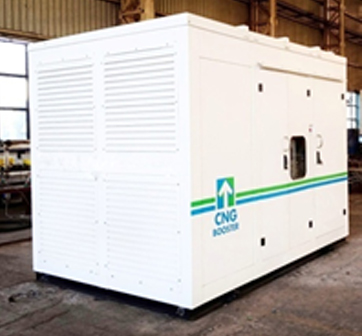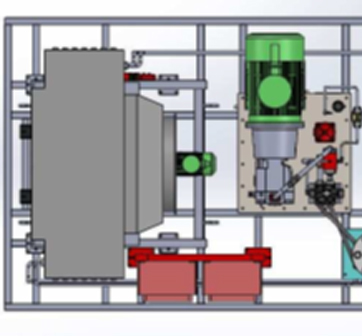 We are producing, three models of hydraulic boosters with 22 kW, 30 kW, 37 kW & *55 kW (*On Request) drive rating to cater individual fuelling station requirement.
Unique Advantages
Fully air-cooled design with direct cooling of gas.

No cooling water is used for cooling and probable fouling is eliminated.

Simple design without cooling water circuit and pump and lesser number of coolers

No Gas venting Loss and Oil Pump can be started on load, as unloading is a built-in feature

Less maintenance by eliminating pump and reducing number of motors.

Less power consumption due to direct cooling and lesser number of motors

Silent operation- Noise level below 75 dB A.

More reliability & aesthetically designed

Finally, less life cycle cost with advanced power saving design and less maintenance.
All electrical and instruments used comply with all regulations such as PESO, ATEX certification.
Range of CNG Hydraulic Booster Compressor
| | | | |
| --- | --- | --- | --- |
| Model | Suction Pressure Range (in Bar) | *Capacity (in SCMH) | Prime Mover |
| KAL-HB-22-A | 30 – 220 | 150 – 1640 | 22 KW Motor |
| KAL-HB-30-A | 30 – 220 | 195 – 1640 | 30 KW Motor |
| KAL-HB-37-A | 30 – 220 | 245 – 2170 | 37 KW Motor |
*Above capacities are estimated and may vary depending on actual site condition & gas composition.