KAL combines the world's best compression technology and package engineering expertise to offer the CNG package and complete CNG fuelling solution in the most simplified format to the world. It combines more than a century of KAL management experience of engineering, packaging, instrumentation, maintenance and EPC execution expertise. It has been always the philosophy at KAL to offer equipment and packages with minimum life cycle cost.
KAL's packaging facility is optimized for CNG & Process Gas compressor packaging, precise heavy fabrication and process equipment manufacturing. The Plug and play design ensures easy installation, minimum site work and early commissioning.
Our CNG Package offering includes wide range of applications of capacity of 300 SCMH to 3200 SCMH, with suction pressure variation from 0.5 to 65 bar pressure and delivering to 255 bar pressure.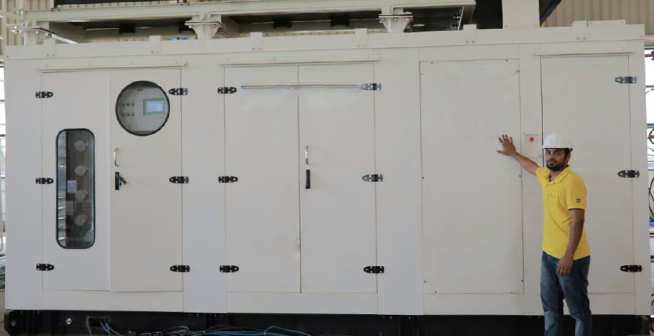 Needless to say the equipment and instruments are chosen from the world's best for better process reliability and worldwide service availability.  While we offer the options of motor and engine driven packages; we are also ready to offer the option of Caterpillar, Waukesha or Cummins engine.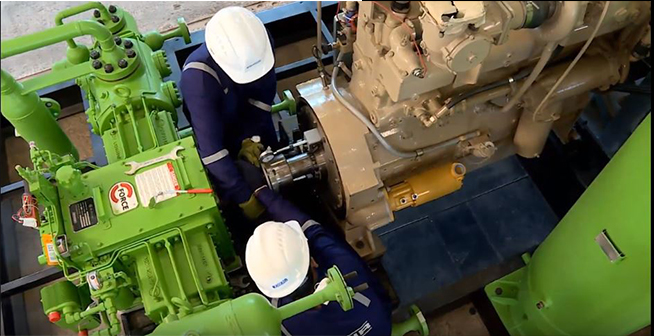 Our standard package consists of compressor, prime over, process coolers, gas recovery tank with blow down system, PLC panels, priority panels, complete set of instruments, fire & gas leak detection system, internal tubing, internal wiring and safety valves.
The PLC controls of industrial grade with explosion proof enclosures and instruments are chosen again from the best international vendors for its technology, process reliability, safety and international service support network. All the packages are equipped with maintenance trending, remote connectivity and mobile alerts to make operation and maintenance all the more user-friendly and simple. 
Key Highlights
World's best compressor block inside

Energy Efficient & Highly Reliable

More uptime and less maintenance

Less noise level with acoustic canopy.

Complete Product Range (Capacity & Pressure)

International Quality and Aesthetics of KAL packaging

Less life cycle cost

Remote Connectivity & Mobile alerts
Design and Safety Standards
The packages are designed to meet international safety standards. All our packages are equipped with fire, gas detection and CO2 flooding system to ensure complete safety. The systems are built using international engineering standards of ISO, API, ASME and OSHA which are followed thoroughly during the design process.
Design is our strength. Torsion Analysis, Pulsation Study, Thermal Optimization, Piping & Skid stress analysis etc. are performed using the latest and best software. Three modelling ensures compact design with minimum foot print / space requirements and also ensuring adequate accessibility.
Spares & Service
KAL is always fully equipped to offer customer service support 24/7 to meet the client's requirement. We are now also ready to undertake operation and maintenance contracts for uninterrupted operation of the units. All equipment and instruments are chosen from renowned international manufacturers who have worldwide network for spares and services.
Turnkey Solution
Our turnkey offer with compact design not only gives you a one stop solution but also our technical specification gives a minimum CAPEX and OPEX for the operator.
Our team has more than three decades of experience in CGD and Oil & Gas executing dozens of complex brown field EPC compression projects of reciprocating, centrifugal and screw in record time. We offer a complete simplified solution for fuelling stations with complete turnkey scope of CNG compressor, dispensers, cascades, pre- engineered sheds and all utility support systems with detailed engineering of civil / structural.
While we offer our turnkey solution to our customer worldwide, we are ready to offer a variety of global brands and makes in all equipment and instruments. KAL can provide a complete range of gas compressor for oil & gas as well as any other application.